Our History
Thoughts, dreams, visions, all flash through the mind variously. The urge to
rise and answer the call of making a difference was there, but the direction to go was blurred.
The opportunity came when I always write to my children's teachers to correct one assignment or the other or change the children's school because I couldn't get satisfaction.
Something in me kept saying, "You can do it!!!" I was curious to do something, to know if actually the children were not ready to learn or the team of staff was not ready to work or lack what to give.
Again, I remembered, it requires a lot of finance aside from the qualifications to get what you want. But I was determined to do it this time, irrespective of the obstacles. Kudos to Mrs. C Ebigbo who kept telling me, "You have what it takes."
Hence, FIRM CHOICE SCHOOLS was born on the 23rd of September, 2003 in a rented bungalow, with seven (7) pupils.
At the end of the term which ended with 15 pupils, the news of the school has spread in the vicinity and there was influx the next term. This was not without a lot of hardwork and sacrifices. On the 27th of July, 2013, we marked out 10th year anniversary. It was a most colourful and glamorous event, with personalities from different walks of life in attendance. We give God all the glory.
Thank God, today we have moved to our permanent site, a purpose-built school building in a better and more conducive environment. And our population has risen to over 200 pupils, and our school is staffed by about 17 members of staff (both teaching and non-teaching). We give all the glory to God.
Wouldn't you rather join the train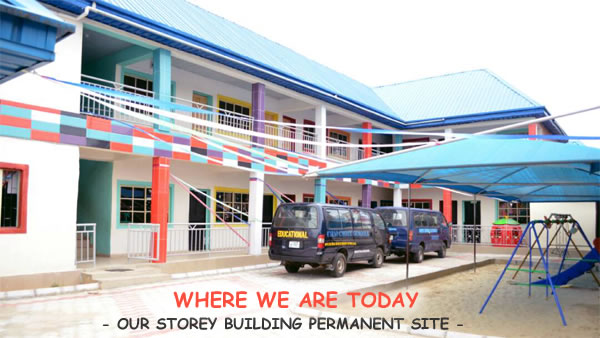 ---
---
Our Vision, Mission & Values
---
Our Vision
To provide with sound education, laying firm foundation that will lead to a lasting legacy to make happy and tolerant adults
---
Our Mission
To set the pace for educational excellence
Groom future credible leaders, well equipped and geared towards self reliance and patriotism
Inculcate social values through interaction and healthy relationship amongst children of different cultural background
---
Our Staff
At Firm Choice Schools, we are very conscious of the grade of teachers we employ, bearing in mind our goal. We have very dedicated, highly qualified and experienced top-notch teaching staff that are committed to training children with a global perspective. Our teachers and other members of staff are well motivated and remunerated to produce the desired result
We usually organize different developmental programmes, such as workshops, seminars and conferences for our staff to improve the quality of their performance, so as to meet our goals and objectives.
This is one reason why our school stand out amongst other schools in our vicinity.